COVID-19 Updates for Members
For the latest information and updates to help you and your clients navigate the impacts on the real estate industry, visit the Massachusetts Association REALTOR®'s COVID-19 website.
Important Message from NEAR: We are pleased to continue providing member services while taking the required and necessary precautions to keep our members and employees safe.
*Supra lockboxes and REALTOR® Store items are available for pickup by appointment during business hours. E-mail a request for assistance or call us at 978-577-6138.
*We are offering many CE classes, webinars, and events online! Classes and events will continue to be held virtually until further notice.
Experience the

REALTOR®

Difference.
NEAR is Your Professional Connection.
At the Northeast Association of REALTORS®, we use our resources to build relationships that strengthen the careers of our members and improve the lives of those who live and work in our local communities. We empower our members and their clients by connecting them to the information and resources they need now. We connect our members to exceptional opportunities for training and professional development, while also strengthening the industry's highest standards of ethical behavior in real estate.
NEAR Area Housing Statistics: November 2021

Need CE Now? The CE Shop is here to help!
Start 2022 off right and get ahead of your CEs! Take your courses online and on demand with NEAR via The CE Shop. Use the promo code ADVANCE to save 30% when you register for online between Jan. 1 - 31 for CE courses!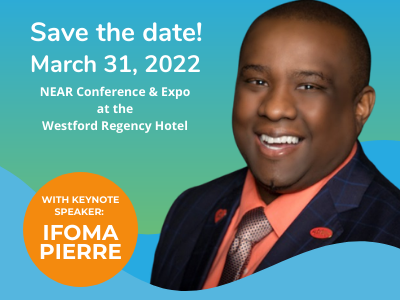 Don't Miss Ifoma Pierre!
March 31, 2022: We're excited to bring back our annual conference and expo this March! With a focus on shift, you'll learn tools, techniques, and lessons to help you in the fast-paced industry shift. Registration opening soon!
Technology training when you need it! NEAR members now have access to more than 2,500 technology resources with their membership. Visit near.reti.us today!
Fairhaven is an immersive simulation where members work against the clock to close four deals, confronting various scenarios where discrimination enters into the transaction. | Visit Fairhaven
An App Runs on Code, a REALTOR® Lives by One.
Not all licensees are REALTORS®. REALTORS® are members of the National Association of REALTORS®, as well as state and local associations of REALTORS®.
Being a
REALTOR®

is more than being a real estate licensee.